"The Voice of Choice"
Many anticipated that the arrival of the new millennium would initiate the introduction of a new wave of thought and creativity. Finally their wait is over....
Thankfully, Gmann (The Romantic One) a.k.a. "The Voice of Choice,"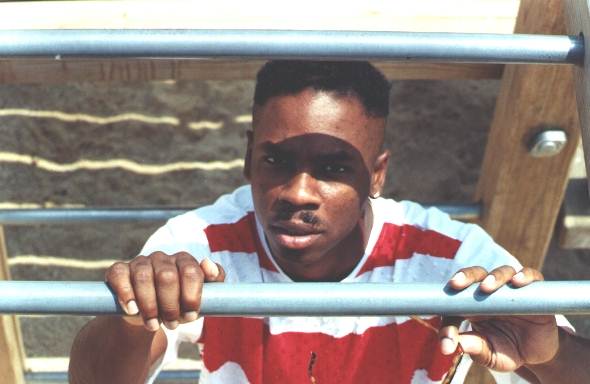 has arrived with an original blend of musical and life influences, the combination of which is destined to impact the musical arena.
Just as it seemed like the urban-pop groove would be stuck in a repetitive loop of sampled tracks and re-hashed vocal melodies, this versatile writer, producer, and performer comes along with a collection of songs that introduce a whole new vibe.
"The concept behind my first release was really a simple one whose time has come," says Gmann. "On this EP (titled "Bubble Bath and Massage") I wanted to put something out there that pretty much everyone can relate to while focusing on my favorite topics- love and romance."
Of course there are quite a few artist on the scene doing "love songs," but none take the approach to the heart that G has mastered. His first release is a well balanced mix of soulful R&B, hip-hop and pop with a touch of jazz. All tracks and lyrics were written, produced, engineered and performed by Gmann at his Actiontrack/Love Monster Studio in Petersburg, VA. His deep, smooth and mellow broadcast ready voice is woven into a true variety of musical energy creating a radio friendly, consumer attractive package that is as unique as it is familiar.
Gmann continues, "In a way I feel like I'm bringing out the flying cars and jet packs that were supposed to be part of the whole Y2K thing. There's a lot of stagnation in music. So many artists have CDs that sound basically the same from start to finish. I felt compelled to give music fans something new with every track. There's a vibe for every mood. It helps prevent the "mid-CD eject syndrome."
While offering this formula to prevent boredom, Gmann's debut CD remains in sync by maintaining the concept of telling a romantic story. This courtship set to music is launched with the first meeting and approach ("Come Go With Me" and "U Can Get It Girl"), followed by the sincere expressions of his intense desire ("How Do You Feel Girl?" and "Jaws of Love"). Finally the relationship comes together in "Silent Love," co-written with brothers Gregory and Marvin Ennis, (Marvin wrote the '90's hit "Taste of Your Love" for E.U.). The CD concludes with the title track "Bubble Bath and Massage," a sensual, jazzy, Issac Hayes length, emotion influencing marathon where few words are necessary.
Though he comes off with a whole new vibe, Gmann is no rookie to the music industry. Along the way he's been paying dues by wearing a potpourri of behind the scenes hats including roles as club and street deejay, record promoter, studio engineer to name a few. Creatively, the native of Annapolis, MD and the Baltimore/DC music scene has worked with chart-toppers Toni Braxton and E.U. A gospel song he co-wrote was selected by the family of Martin Luther King, Jr. for their annual King Holiday celebration in Atlanta, where G shared the stage with a stellar cast including Howard Hewitt, Jermaine Jackson, Vanessa Bell Armstrong and others. He's had a song used in an NBA highlight video; performed at half-time of an NBA game and made waves in Europe with a show opening theme track for a German/Belgian fitness TV program.
"Bubble Bath and Massage also gave me a chance to feature some of the rising stars I was blessed to come across when I set up my studio in Virginia. In fact the title track highlights the vocal skills of an incredibly talented crooner named Dave Laxx who is destined to be the first true vocal superstar of the new century, along with Rick Elliott (Missy's cousin) on sax. They are part of the "Actiontrack Arsenal" of talent that I've put together, along with The PHLO (a sensational, powerhouse R&B duo) and Wild Honey (a female hip-hop/pop seductress). We're all in the studio putting the finishing touches on some mind-blowing sounds. My original intent was to have the entire arsenal come out first, before I put on my artist hat, but now we're just letting things flow as they flow. There's one thing that will stand out about this camp, we don't all sound alike...we just all sound good. With all the noise coming from VA Beach the Richmond/Petersburg area is getting overlooked, but that's all about to change real soon."
In fact, you can here music from The PHLO and Dave Laxx on the soundtrack of the newly released motion picture "Nothin' 2 Lose," starring Brian Hooks (from "Phat Beach," and "3 Strikes") which was produced by Martin Jones' Y2G Productions at New Millennium Studios, also located in Petersburg. In addition to producing tracks for his arsenal stars, Gmann served as assistant music supervisor for the soundtrack.
This is obviously a new beginning for Gmann, who has his eyes set on a future full of gold, platinum and diamonds. In addition to the upcoming releases from the rest of the Actiontrack Arsenal, Gmann is already crafting part two of his romantic Bubble Bath and Massage saga. There's also his high energy DOTcom Project, full of international dance appeal.
Says G, "I could have easily put more tracks on this debut release, but I figured I'd better let the concept and the originality sink in before I make the big moves. Kind of like taking it slow on the first date..."

** ** ** ** ** ** ** ** ** ** ** ** ** ** ** **

Gmann Home Meet & Greet Bio Music Interview Talent Arsenal Actiontrack
Email: gmann@actiontrack.com